I was searching through blogs this morning and I came across one that is called Operation Write Home (OWH). This is an amazing project that enlists crafters like us to make cards for soldiers to use. The cards are sent to soldiers overseas, and they can write in the cards and send them to their loved ones. The
Stars and Stamps
blog is having a Back to School challenge right now, and I just knew I needed to join. The military and children really tug at my heartstrings, and this touches on both of those!! Here are the two cards that I came up with for this challenge...
Both cards are size A2
Top Card
:
Celebrate with Flourish: "Back to School" cut at 2.84"
Cuttlebug: stars
Glossy Accents
White gel pen
Bottom Card
(this one was giving me photography problems):
Hello Kitty Greetings: books & apple cut at 3.71"
Sentiment was done on my computer using Kristen font, size 36
White gel pen
Black pen
I am also going to be using this in two linky parties..... I think it would be great if a lot of people see this and want to participate too! :)
Craft Junkie Too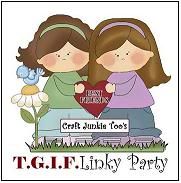 Patches of Pink